You've found the webpage of N. M. Cedeño, author of short stories and novels.
Most of my writing falls under the general category of mystery fiction. Some of my stories are mysteries set in the near future.  Some are set in the present.  Some are traditional mysteries. Others are closer to romantic suspense.  I even write ghost story mysteries. Yes – all over the mystery genre map.  If you aren't interested in one type of story, maybe another will catch your eye.
~~~~~~~~~
Here's the Latest News:
I have been elected 2019 President of Sisters in Crime, Heart of Texas Chapter. For events and activities, visit the HoTSinC website.
As part of my local chapter of Sisters in Crime, I was interviewed, along with other members of the group, by The Austin Chronicle. You can read the interview here:
https://www.austinchronicle.com/arts/2018-07-06/austins-sisters-in-crime-prefer-their-ink-mixed-with-a-little-blood/
Also, I will be participating in book festivals and author events in 2019. Come on out and join in the fun! Details can be found on my amazon author page under events here: amazon.com/author/nmcedeno or find information on my FaceBook page (N. M. Cedeno).
~~~~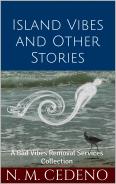 Island Vibes and Other Stories, my new collection of three stories in the Bad Vibes Removal Services series, is available for sale! Here is a preview.
The American Library Association (ALA) Book Club Central has selected my book, The Walls Can Talk, for their recommended books list for March 2018! Here is a link to the Irish-themed March list.
I've been featured in an author interview! Click here to read the interview. Thanks to Lois Winston for featuring me.
The Walls Can Talk, a Bad Vibes Removal Services novel, is available for sale!  The novel contains a bonus short story entitled Astral Vibes.
If you would like to read an instant preview of the book, click here.
Awards News:
My novel For the Children's Sake won an award! Click here to read the announcement.
And here is a link to a preview on Amazon: Bad Vibes Removal Services
Novel News:
In case you missed the last books:  Now Available from Lucky Bat Books:
All in Her Head  A romantic suspense/mystery novel!  Click here to read an instant preview.
For the Children's Sake  A Near-Future Mystery novel! Click here to read an instant preview.